Hi,
I know tires were and will be reconsidered and repeated over and over on this and many other forums, simply because there's no one-fit-all tire. I've had some tires before on my Pathfinder, and all have some flaws:
GoodYear Duratracs
were the best for light to medium off-road, excellent on gravel, aggressive look, very good on dry pavement...
...BUT not so good on wet and ice, during time degrade quickly on these two categories, and most of all, they are prone to sidewal rapture and all kinds of punctures. I've punctured or cut every Duratracs tire I had on my vehicle at least once, most of them twice and some beyond repair.
BFG T/A KO2
's were noticeably worse on mud and slick grass, becasue they do not dig in, but rather slide on surface. Othervise, very nice aggressive look, and ultra, ultra reliable on all kind of obstacles. I've driven over sharp rocks, knives, axes and every kind of construction steel bars, vertical 3-inch steel anchors, and simply have not had a single puncture in many years of use and abuse of those tires.
...BUT they also get worse and worse on wet, ice and snow, first snow flakes made vehicle an unstoppable moving object, very scary during winter.
Now I've got
Falken Wildpeak AT3WA
, but was dissapointed as soon as they arrived - thread profile for US market is totally different as for EU market. Actually, that's different tire.
I expected this thread, with more rectangle cross section, more aggressive look, like for
US market
: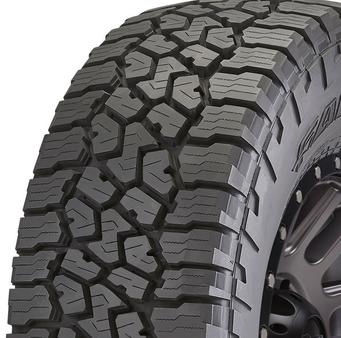 ...but I've got
EU version
with same name AT3W, which looks like radial balloon once mounted, has shallower side sips, less aggressive pattern and has very average look. Absoulte rubbish on wet grass and deep snow, and I do not have any confidence in those soft sidewalls - they look so tender like a baby's ass. But on the road those are superior to BFG and Duratracs on dry and wet pavement, when cornering and braking, which is 90% of my daily commute.
So, what am I asking here is:
Is there any tire on the market, roboust and reliable, puncture-resistant just like BFG T/A KO2, but with at least one degree better snow and wet performance?