Here's what I'm working on today. A rust bubble formed under the right side roof rail foundation at the front. Water pools under these things (FYI). There is a single rubber gasket you see at the bottom of it which the bolts should seat into, but over time, water got through the paint on the forward most bolt on mine. The rust pushed the paint and gasket up, letting more water in over time.
Halfway through correcting it now. Chipped it out with a screwdriver, cleaned it with a Dremel wire wheel and rust converter (mostly phosphoric acid gel stuff from Rustoleum), and sealed it with primer. Next up is Bondo filler putty, sand, then reprime and paint.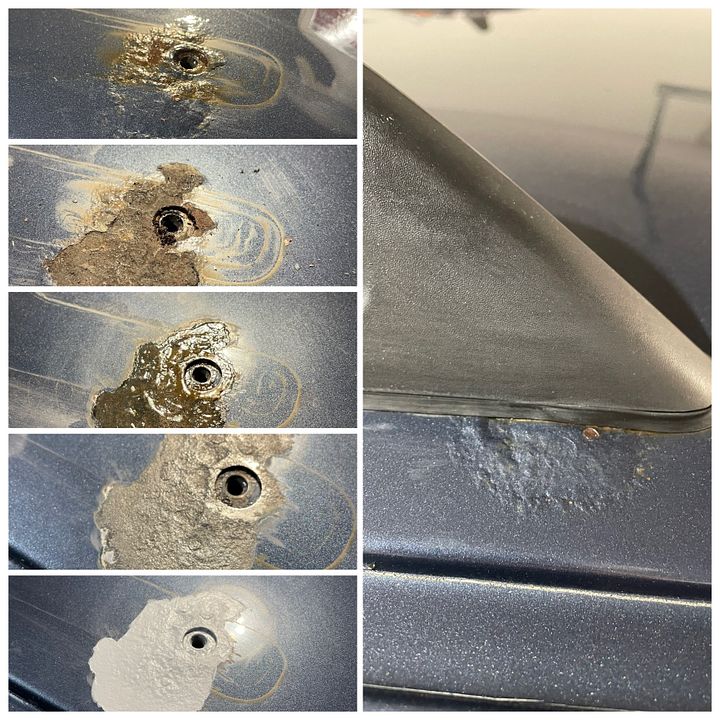 One comment, Nissan HSLA steel is pretty magic, there was water inside the rust bubble when I chipped it out but plenty of good metal left underneath. It was nowhere near working its way into the roof liner, which is what I was worried about.
When I'm done, I'll take photos that explain how to get the roof rack off. It's a lot easier than you think. It The rail pivots on the center mount to an angle...slide back, then it pops right off.