We're back from the trip and it was great. I have to give a big thanks to NVSteve. His input helped me put this trip together quickly and made sure things went smoothly. I didn't have too much time to plan as I was working on landscaping my yard and installing an irrigation system just before we left so his input was very much appreciated. Thanks Steve!
So as I mentioned in the first post, the plan was to take a 4 day / 3 night trip and camp two of those nights and stay in a hotel one night. The BLM office told me that Buckskin did have deep water in some parts, but that I should be able to hike a couple miles in from the Wirepass trailhead without getting wet. This is what we were looking for as we did not plan to go far into the canyon and we only wanted to spend half of the day there before driving onto Bryce Canyon. I decided against the Stateline campground because I preferred to have more amenities (like restrooms). Lake Powell is only about an hour from Buckskin and it was along the way for us coming from Phoenix so I decided it would be a good place to camp. We arrived around 5:00 and setup our campsite while we had daylight and then made dinner as the sun was setting. We decided against getting up early to try the lottery for passes to the Wave because we figured the chances of getting 4 passes was very slim and if we did win them, it wouldn't leave us enough time to make the trip to Bryce.
After breakfast the next morning we packed up the campsite right as it was starting to get windy. The tents were blowing quite a bit in the wind so packing up was getting annoying. On the way out we stopped by the Glen Canyon dam to get some pictures and enjoy the views. The area had more security than we expected, but it makes sense once you realize the dam controls the water supply for several states.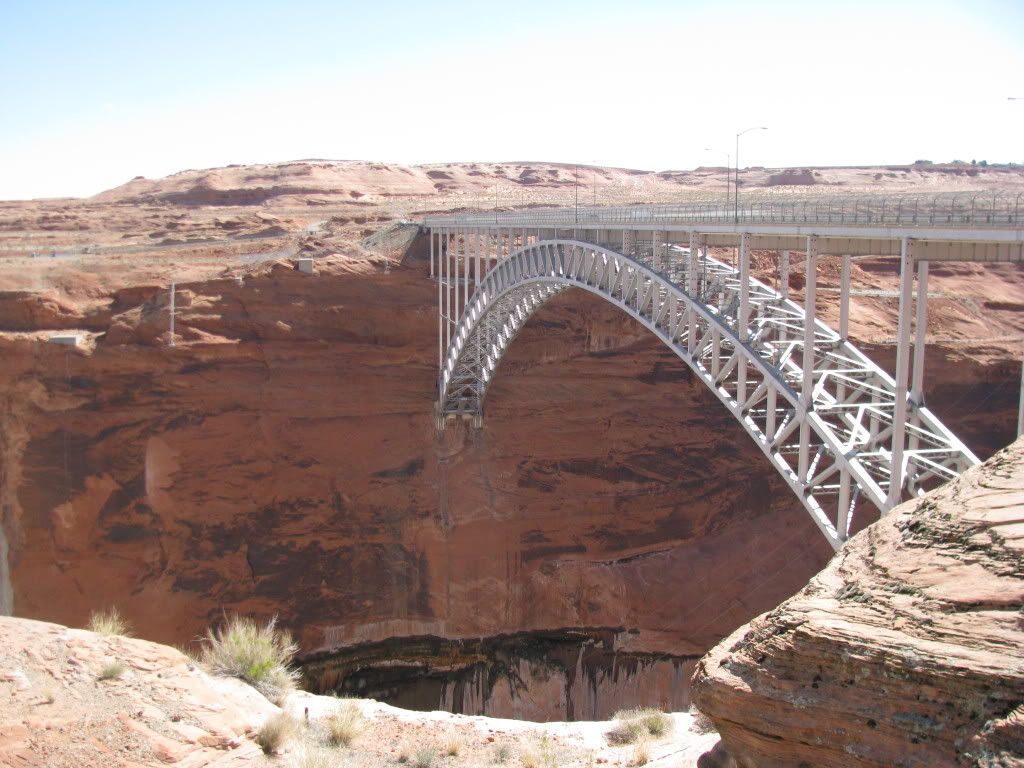 Glen Canyon Dam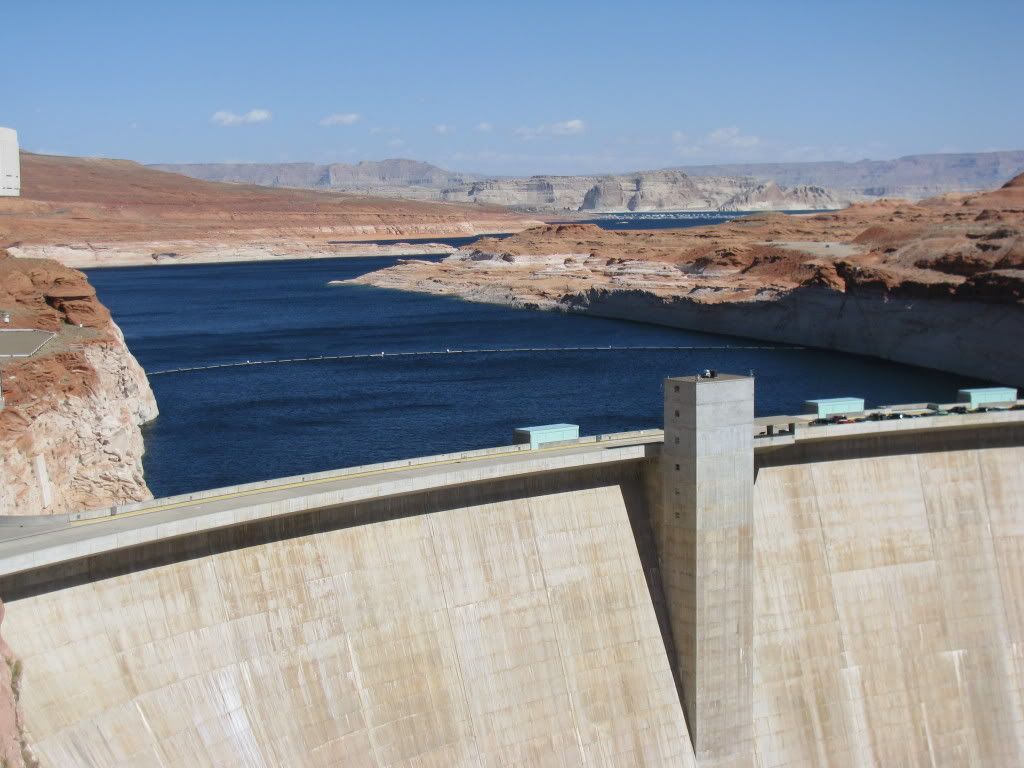 Views from the campsite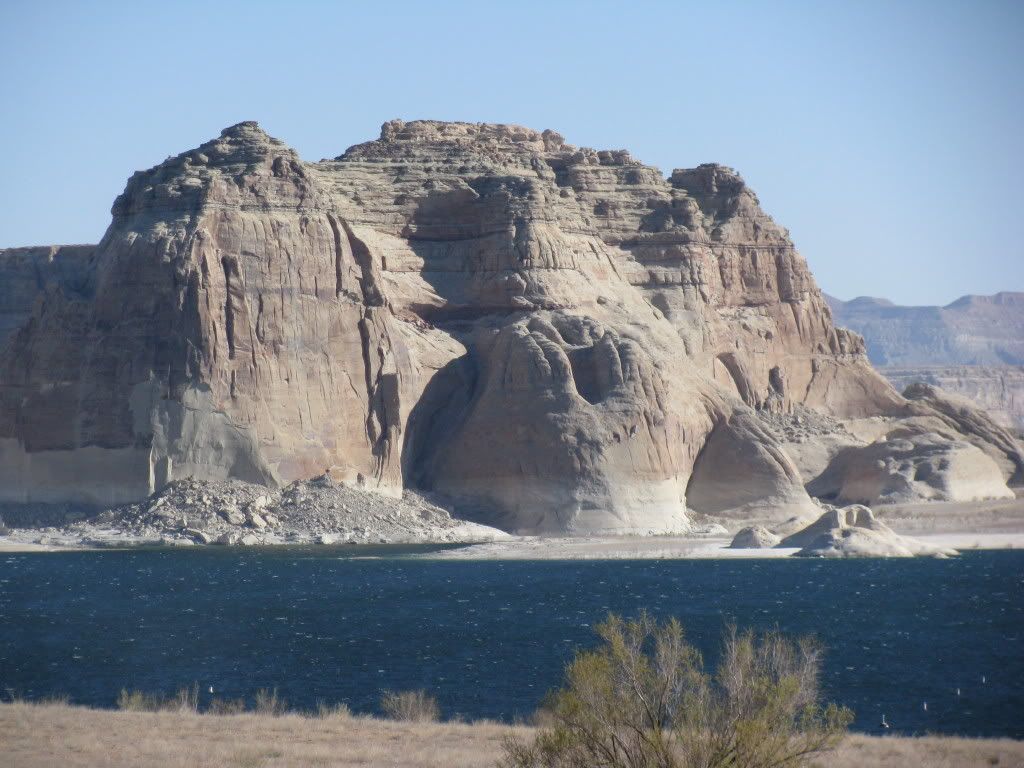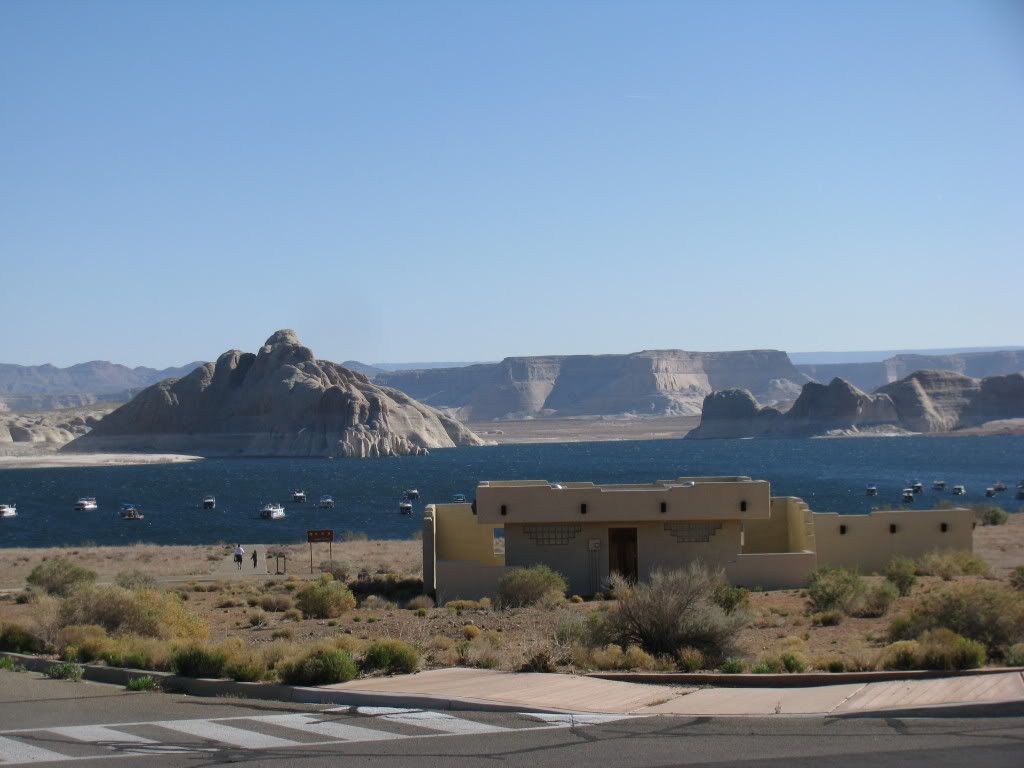 I talked one of the employees in the bookstore about Cottonwood Canyon road to see if they would recommend it. He said it was about 20 minutes faster than taking Highway 89, but there are some nice stops along the way at Grosvenor's arch and Kodachrome Basin State Park. I figured we'd give it a shot plus it was a great reason to take the Pathfinder off-road.
So we made the drive from the dam to Buckskin. We decided to eat an early lunch before the hike. We had a cooler packed with food so we just took the chairs out and had lunch at the trailhead. The parking area at the trailhead was full. I was surprised to see that many people there since it seems early in the season, but maybe that's normal. The hike into Buckskin was great. The sun was shinning and helped provide warmth since the air temperature was cool. There was a little bit of wind that created blowing sand in some areas, but it wasn't too bad. This is the first slot canyon we've been too and it was a wonderful experience. Pictures are nice, but in person is that much better. We were able to hike 1.7 miles and never encountered any water. Here are some pics from the hike: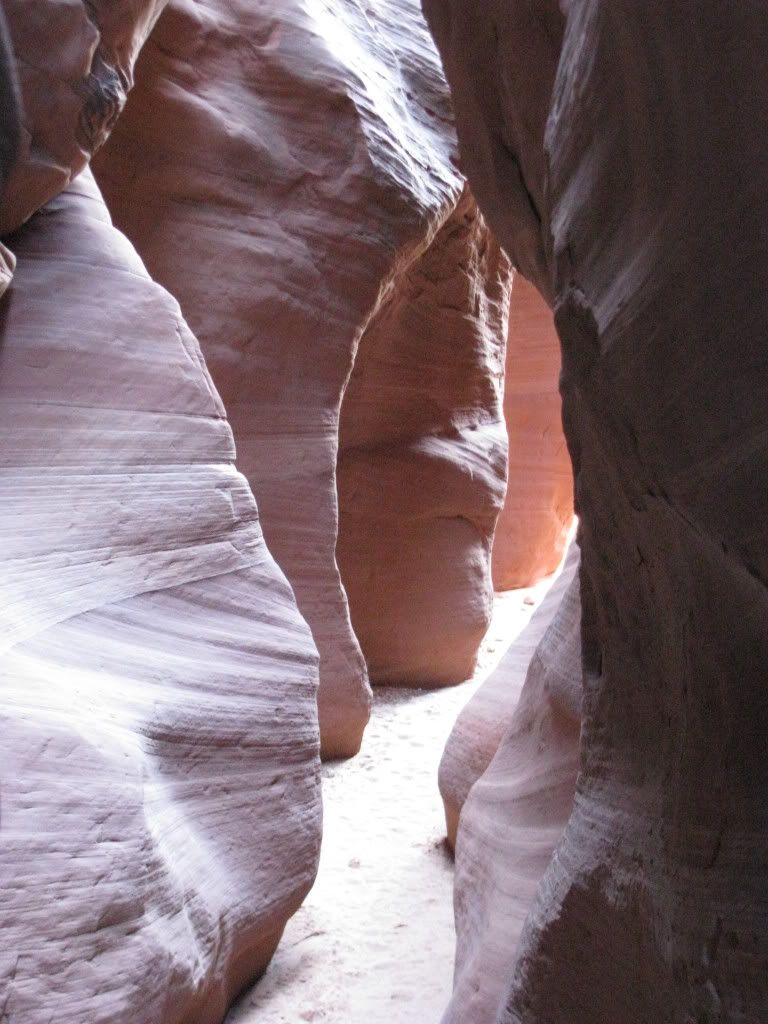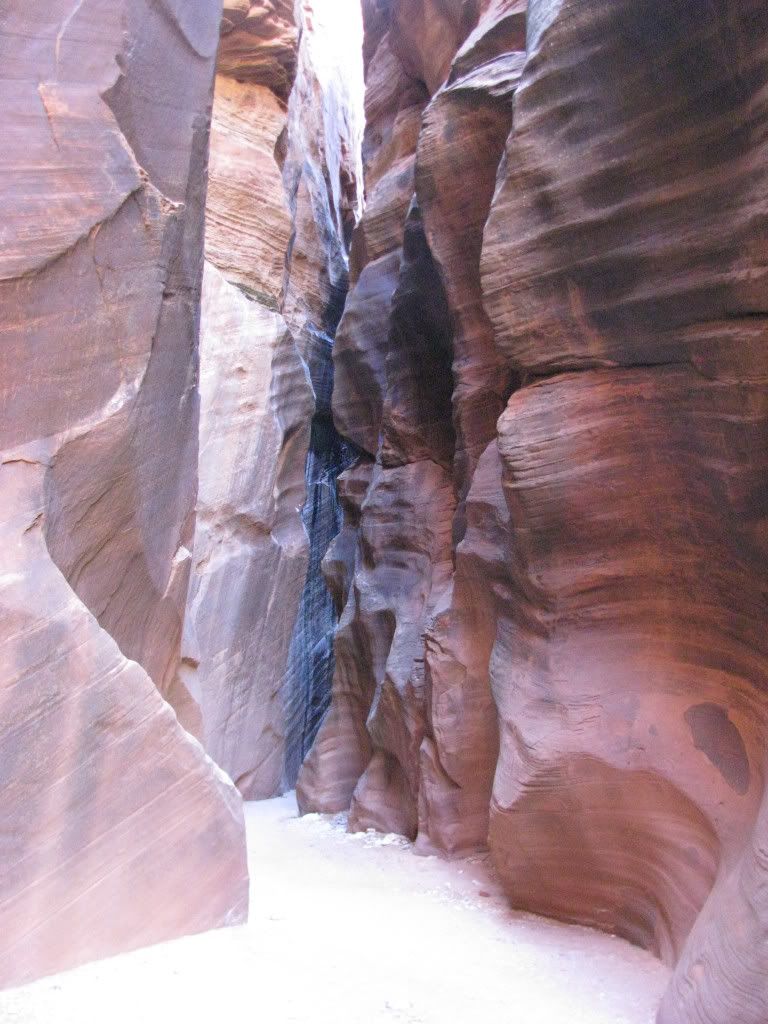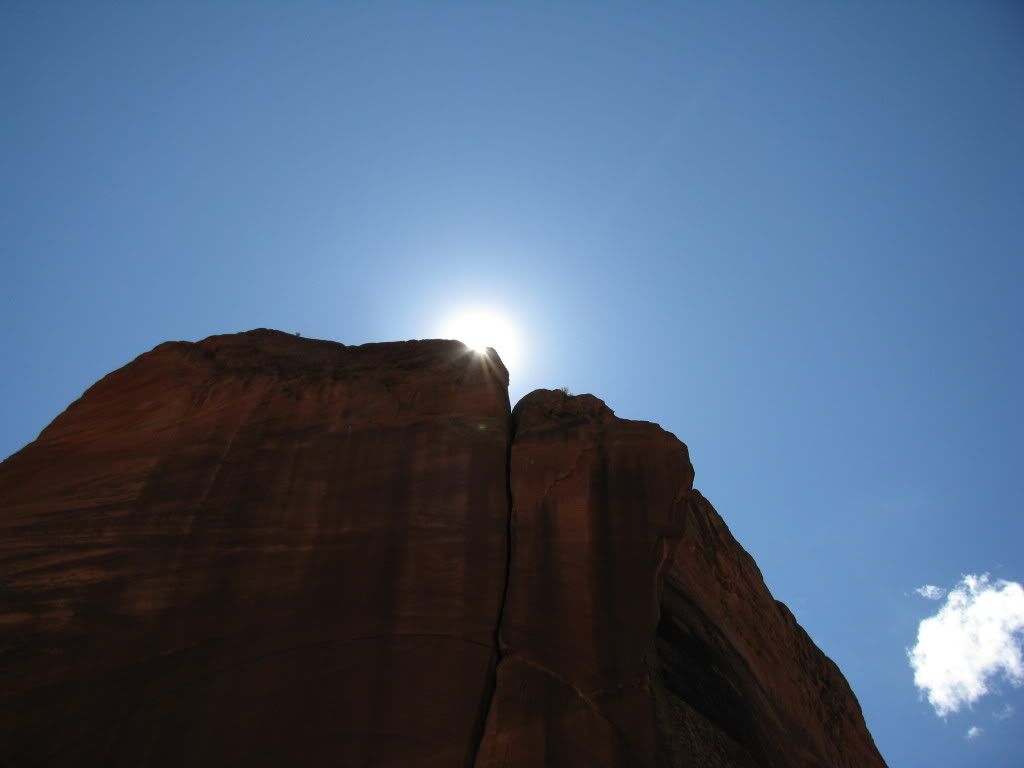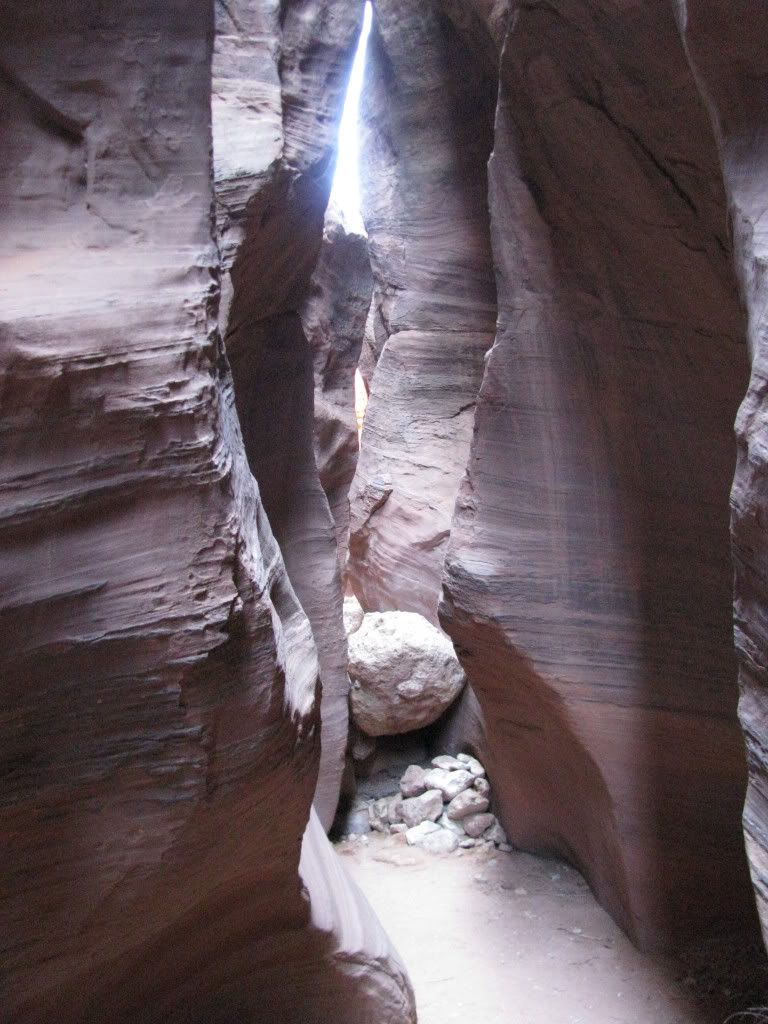 Once we left Buckskin we headed toward Cottonwood Canyon road. About 2 miles into the drive, one of my passengers tells me they have to go to the bathroom. I told them we'd just have to stop on the side of the road since there are no facilities on this road. They said they couldn't do that and they'd just hold it. The road is all dirt and is pretty bumpy. You probably average around 20 mph so it ends up taking around 2 hours to drive this road. Heading North, Grosvenor's Arch and Kodachrome are near the end of the road so it took us about an hour and forth five minutes until we reached the turnoff for Grosvenor's Arch. By that time, both the female passengers had to go to the bathroom and had no desire for a scenic turn-off.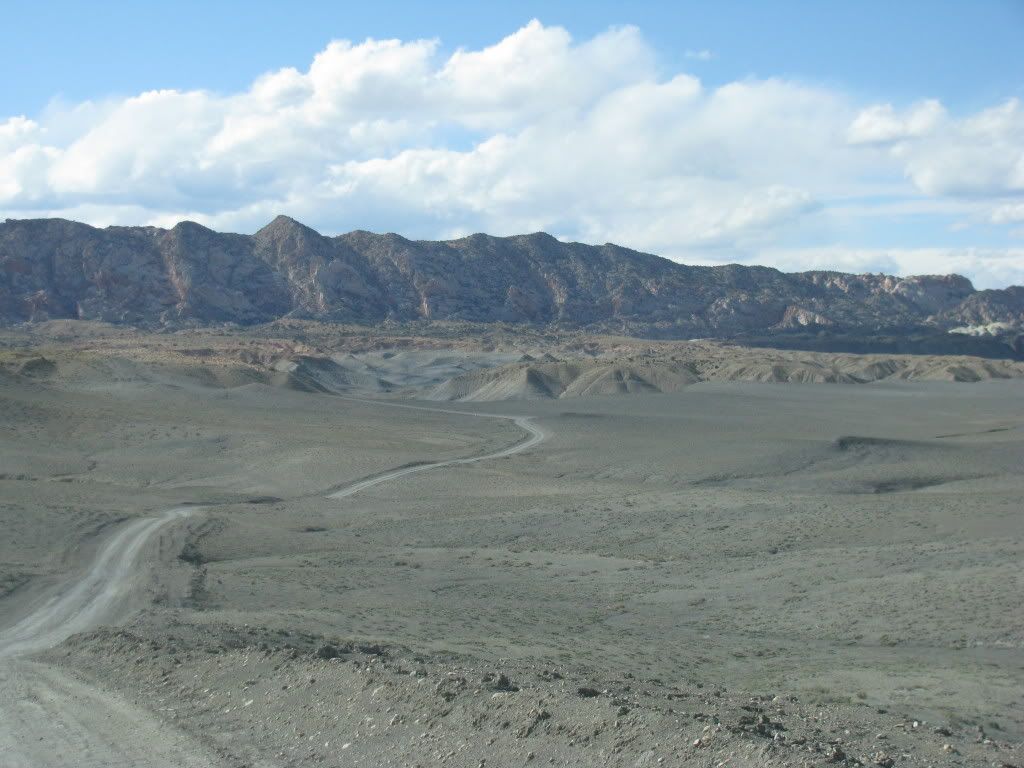 We've never seen wild cows before
We arrived at Bryce that evening and checked into our hotel. The next morning most places weren't open for breakfast since many of the hotels were just opening up for the season. We found a restaurant at the Ruby's Inn and when we explored the Ruby's Inn a bit more, we decided it was much nicer than where we were staying and we decided to stay there the next night since it was too cold and wet to camp. I would recommend Ruby's Inn over any of the other places we saw while in the area. It has the nicest rooms and best amenities.
Once in the park we stopped by the ranger station and looked at the hiking trails. We decided to take a 3 mile hike that started at the Sunset Trail and ended up on the Wall Street trail. The pamphlet in the ranger station advertises it as the best 3 mile hike in America. It was a wonderful hike. Bryce has such a variety of features. Besides the obvious hoodoo's, there are desert windows, tall Douglas Firs, and arches you walk under along the trails.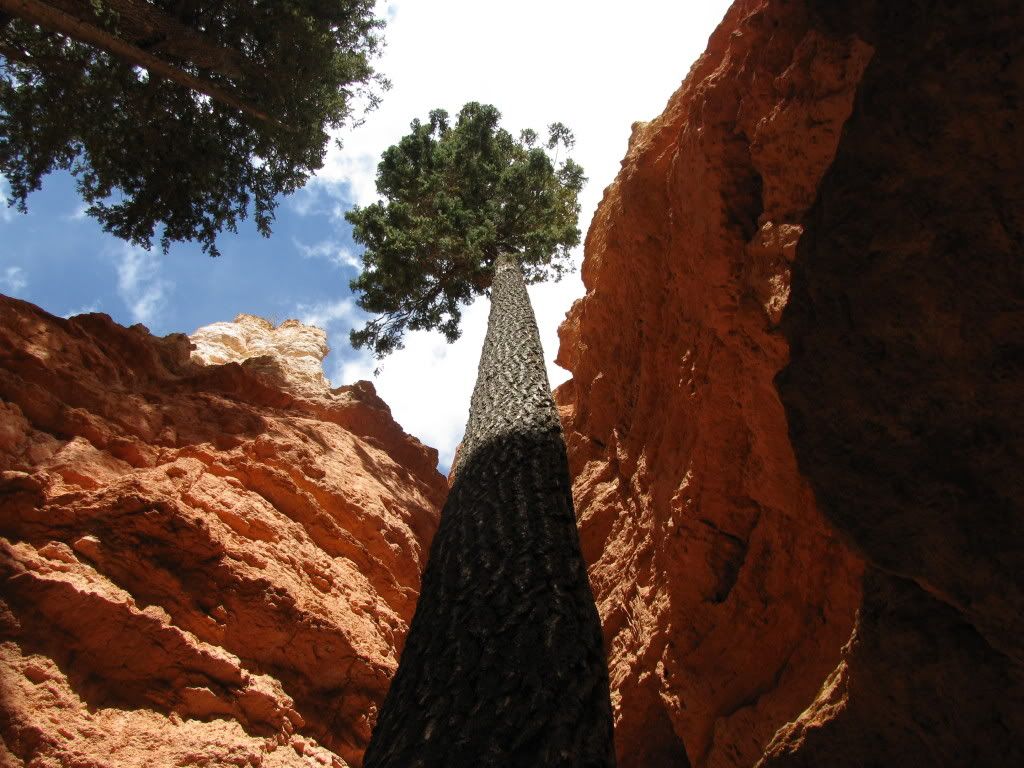 A tall Douglas Fir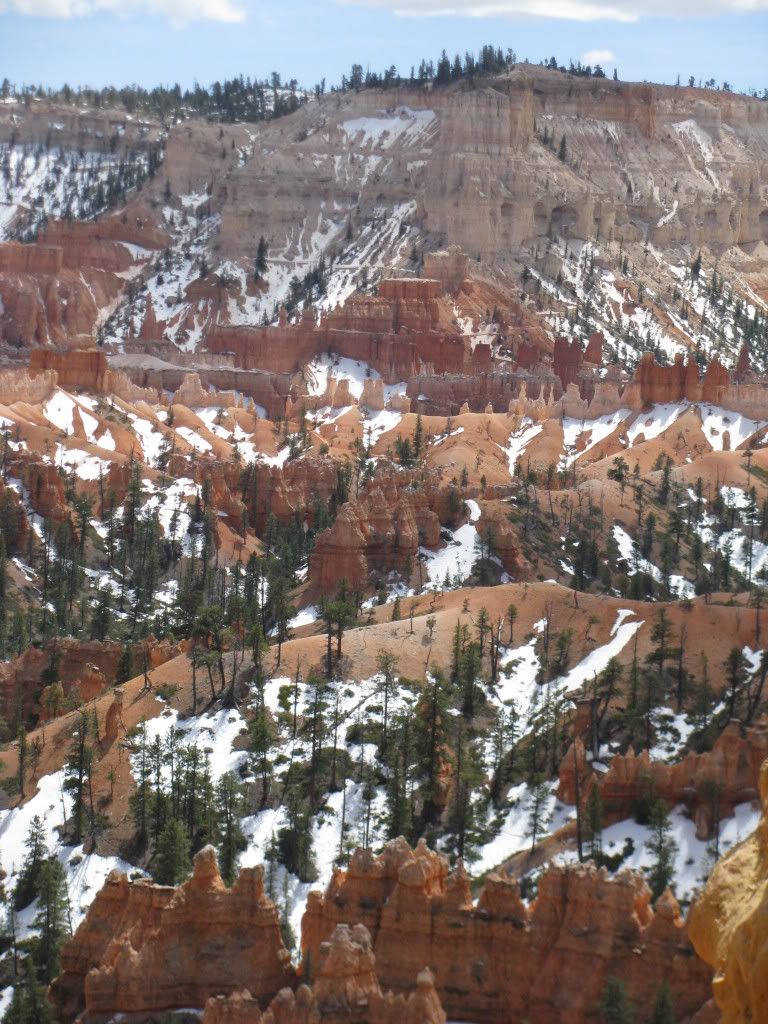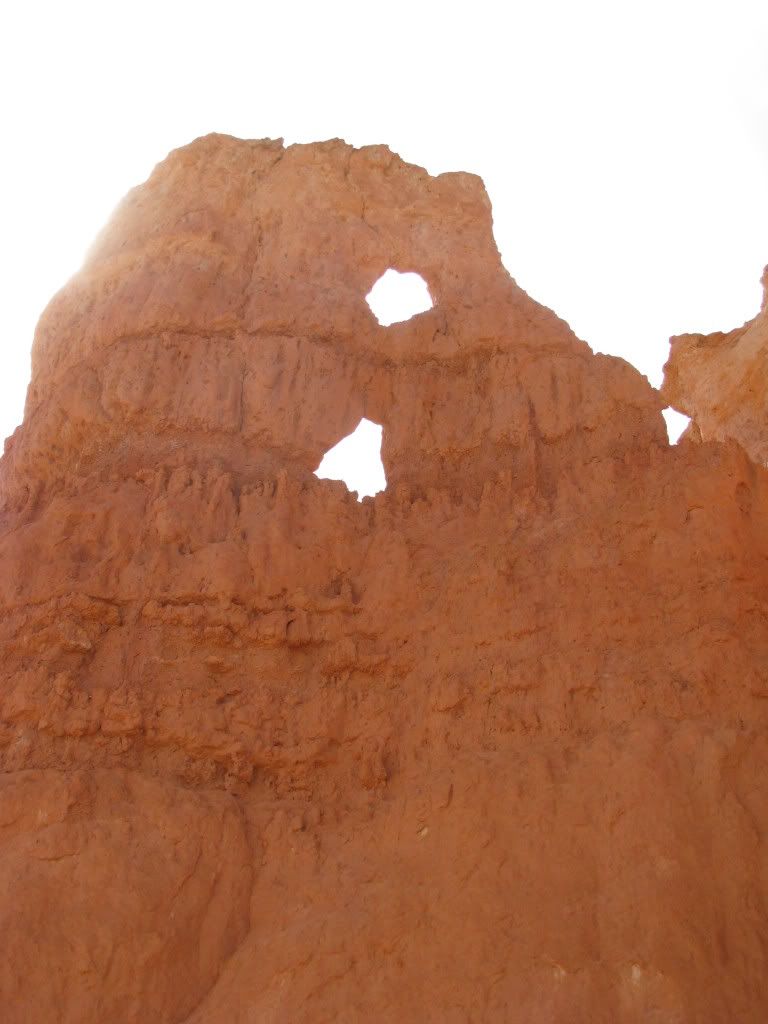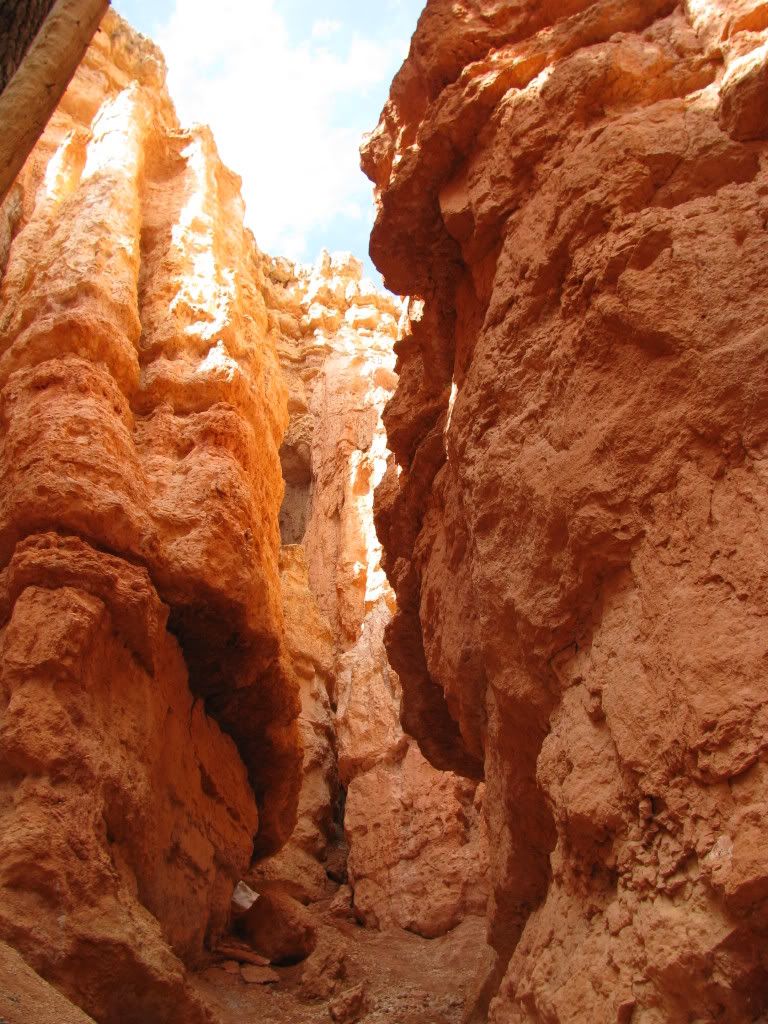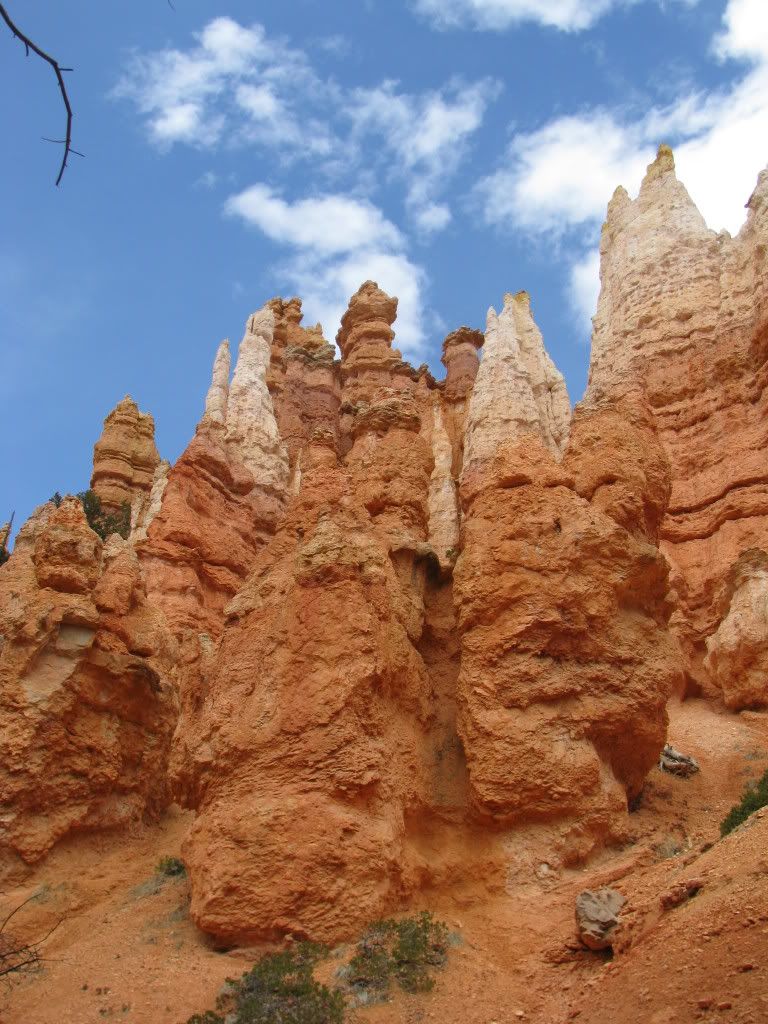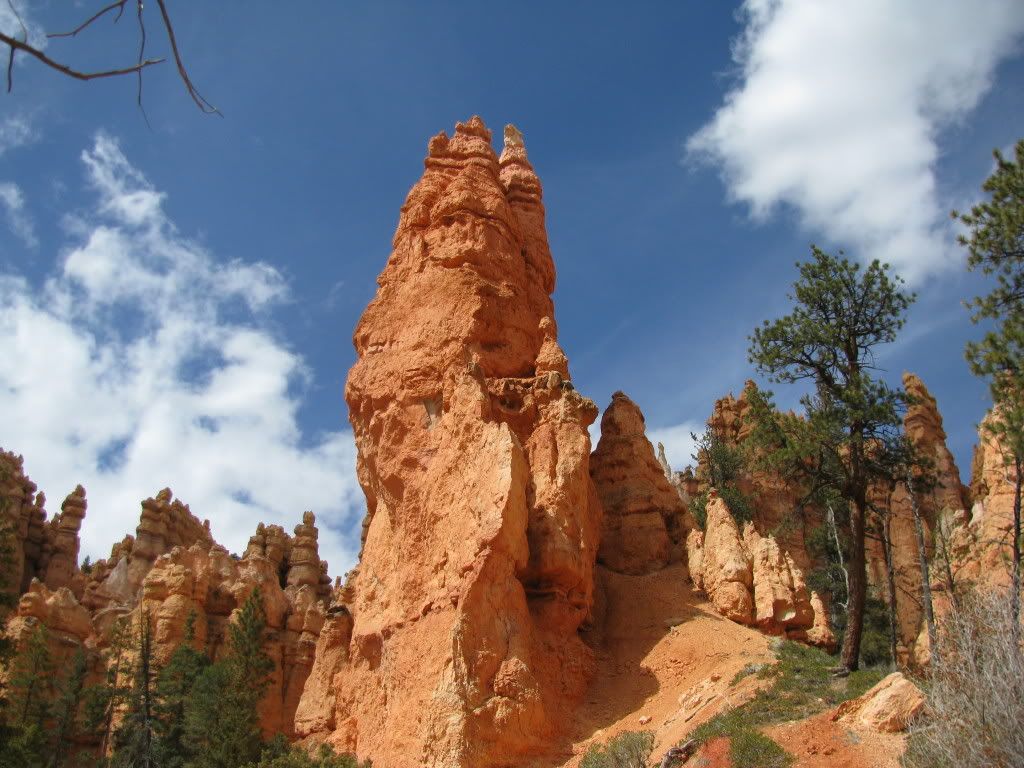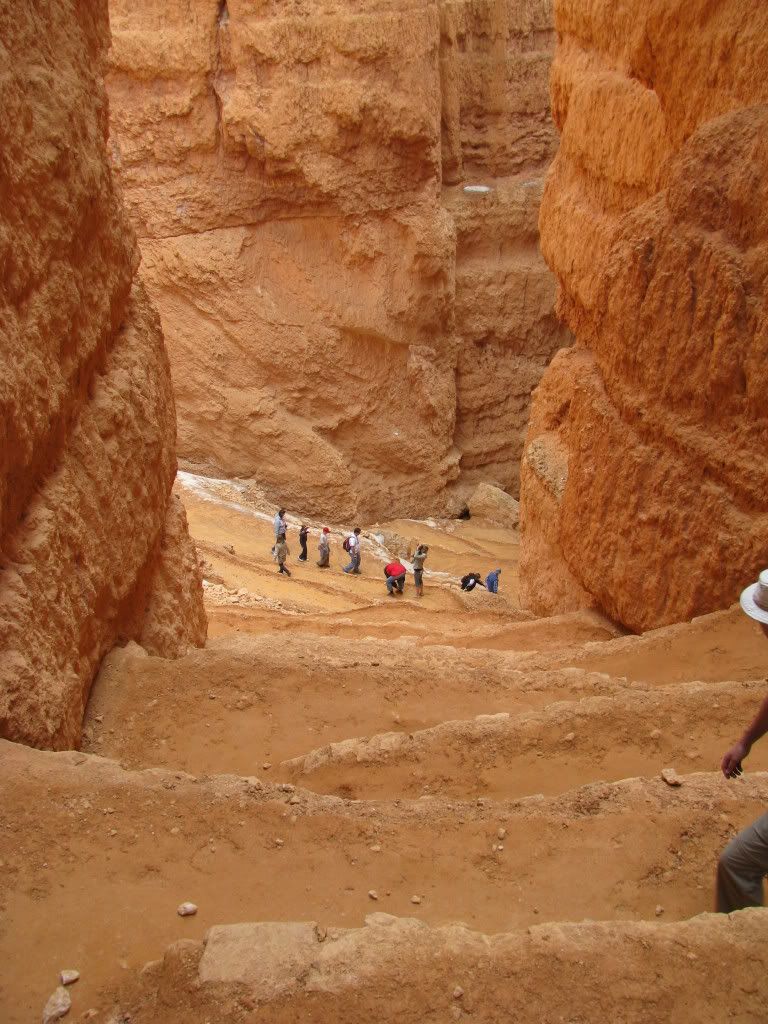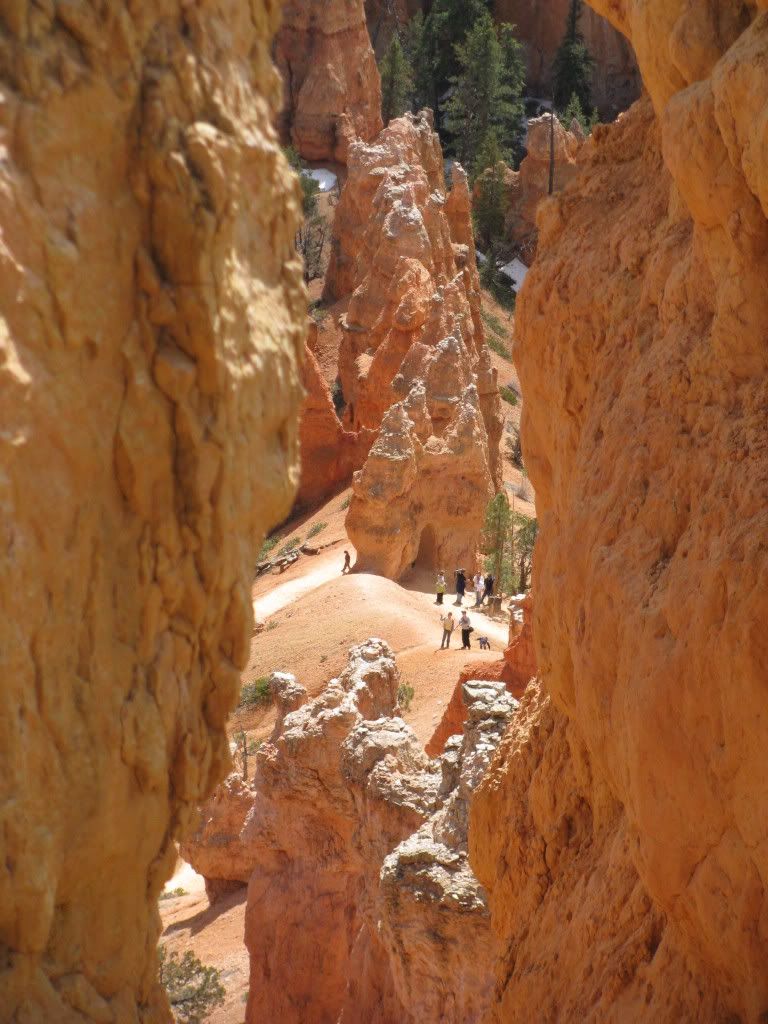 The next morning was Good Friday so we decided to go back into the park and spend some time reading from the book of Matthew and remembering the significance of the day. We went to Inspiration Point and spent about 30 minutes in the beautiful surroundings. After that it was time to start making our way back to Phoenix. We decided to take Hwy 89 instead of Cottonwood Canyon. It took us about 2 hours going that way so we really didn't save any time taking Cottonwood, just miles. I'd say Cottonwood is worth it if you like to off-road or if you want to stop at either of the scenic points. We made pretty good time coming back. I reset the trip computer when we left Bryce and took this picture when we arrived at Olive Garden near our house for dinner.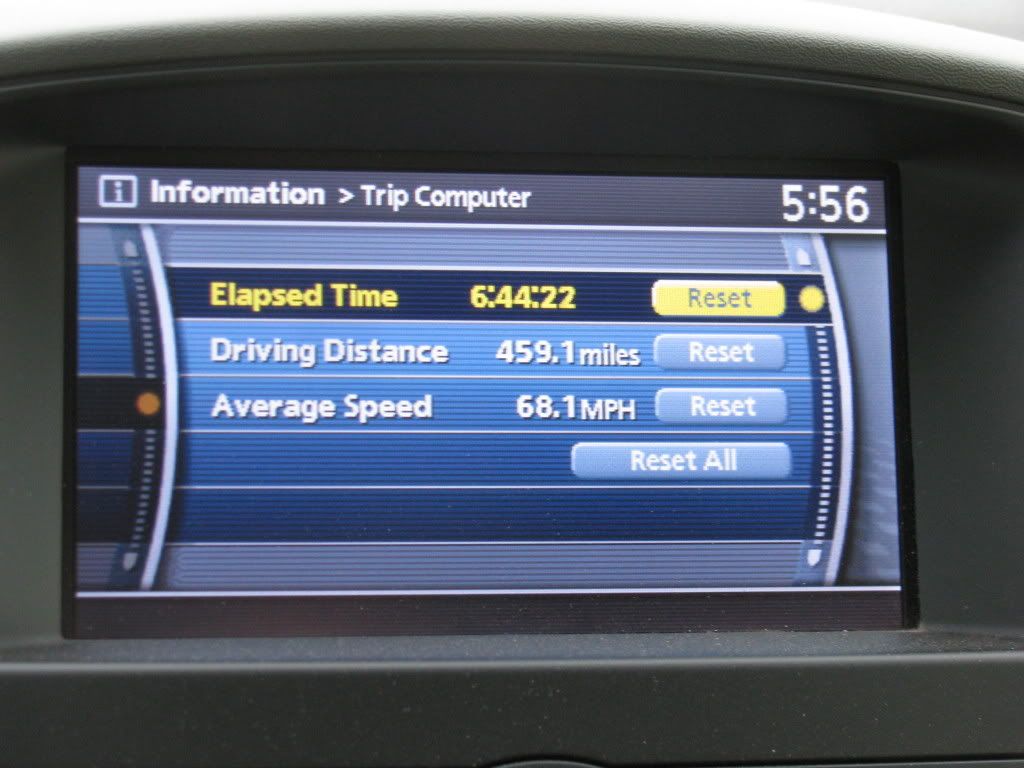 Once again, thanks Steve for all your help. Hope you all enjoy the pictures and write up.