There have been several topics in the R51 section over time asking about changing the plugs in the 4.0 V6.
See these topics...
http://thenissanpath.com/viewtopic.php? ... park+plugs
http://thenissanpath.com/viewtopic.php? ... park+plugs
http://thenissanpath.com/viewtopic.php? ... park+plugs
Didnt seem like anyone out there had done it yet because the plugs are good for at least a 100K.
Well, I just finished the task at 94,000 miles! My Nissan maintanance book says that plugs should be changed at 105K, but since I have two major road trips coming up, I figured I would do it now.
First of all, to clear up any mystery, this was NOT an easy job! Granted, the drivers side is a
breeze
. I did all three on the drivers side in about 20 minutes...
Passenger side was an entirely different beast! It took me about 2 1/2 hours to do the passenger side. Most of you probably know that the intake manifold is over the passenger side, and there lies the big problem. I am sure that a Nissan Technician knows all the tricks, has any special tools, etc. Heck, they may pull off the intake manifold to gain easier access to the passenger side. I just dont know.
As for the OEM plugs themselves... NGK PLFR5A 11. I always wondered if they were "Dealer only". I bought mine at Advance Auto Parts, I imagine Autozone will have them too. Advance part number is NGK 6240, and they retail for $9.99 each. They are the exact same plug as what I took out. I thought about using different plugs but these things looked great with 94,000 miles, so why mess with what obviously works?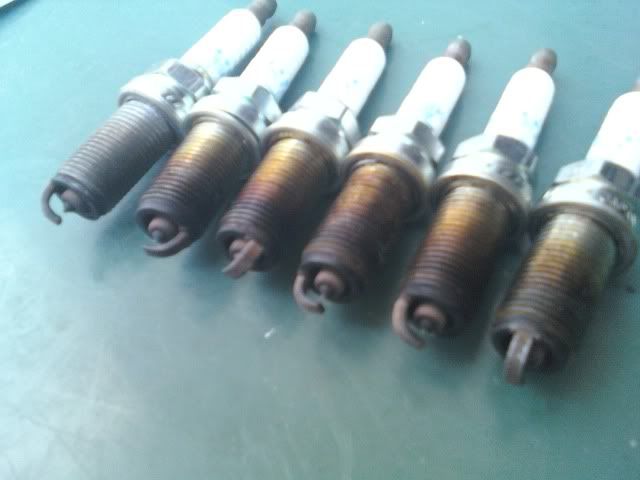 My MVT (Most Valuable Tool) was about a 5 inch piece of fuel hose. Also notice the anti-seize compound which I applied to the threads of each new plug. Anti-seize is vital to threading anything into aluminum. I even use it on steel cylinder heads.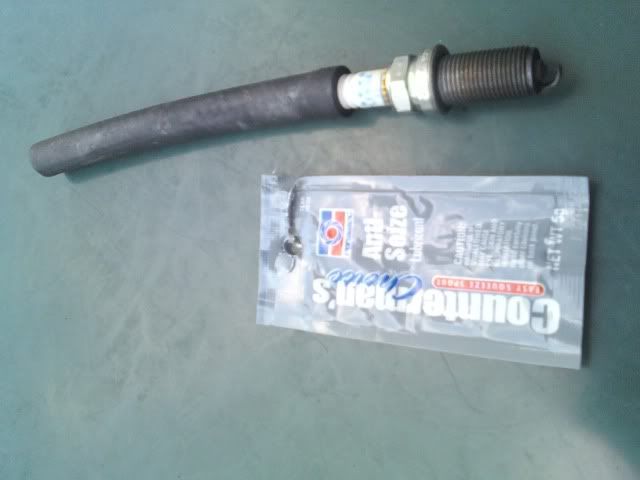 The chunk of fuel hose proved itself to be priceless for removing the old plugs once they were loose, and for installing the new ones with confidence of threading them in straight. The plugs sit deep inside the valve covers and are not visible while you try to thread them in. The rubber of the fuel hose provides a great sense of feel to thread the new plugs in and it is an extension that allows you to thread in by hand.
A 5/8 spark plug socket, a ratchet, and a 6 or 8 inch extension worked great for all three on the drivers side.
On the passenger side, it was alot of guess work and varied combinations of 3", 6", and 8" extensions, and a 3/8 swivel. The passenger side nightmare also is in getting out the coils. The rear two coils/ plugs are manageable with some patience. Number 1 coil, which is the front, was the most difficult due to the bend of the intake where the throttle body mounts to it. I ended up removing the throttle body to give myself a bit more access... it helped some.
I dont recommend this job to anyone. If you are an accomplished mechanic, and have confidence in your ability, then go for it. If all you have done is a tune-up on a lawn mower, you might want to pay a Tech to do it.