Hey guys thought I'd just say hi.
I've only had the pathfinder for a month or so, but i'm already enjoying it!
I am saddened I had to trade in the 04 WRX for it, but it will be a worthy replacement for my snow boarding trips, beach trips, and trips to the forest. oh and I had to get something that holds my 4th kid now...
I'm hoping to find some local people on here (Salem area), so we can hit up some n00b trails

David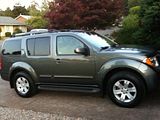 (crappy cell pic)